I saw this image going around Facebook, sourced from an /r/PoliticalHumor thread. While the juxtaposition is funny, there is nothing historically accurate here.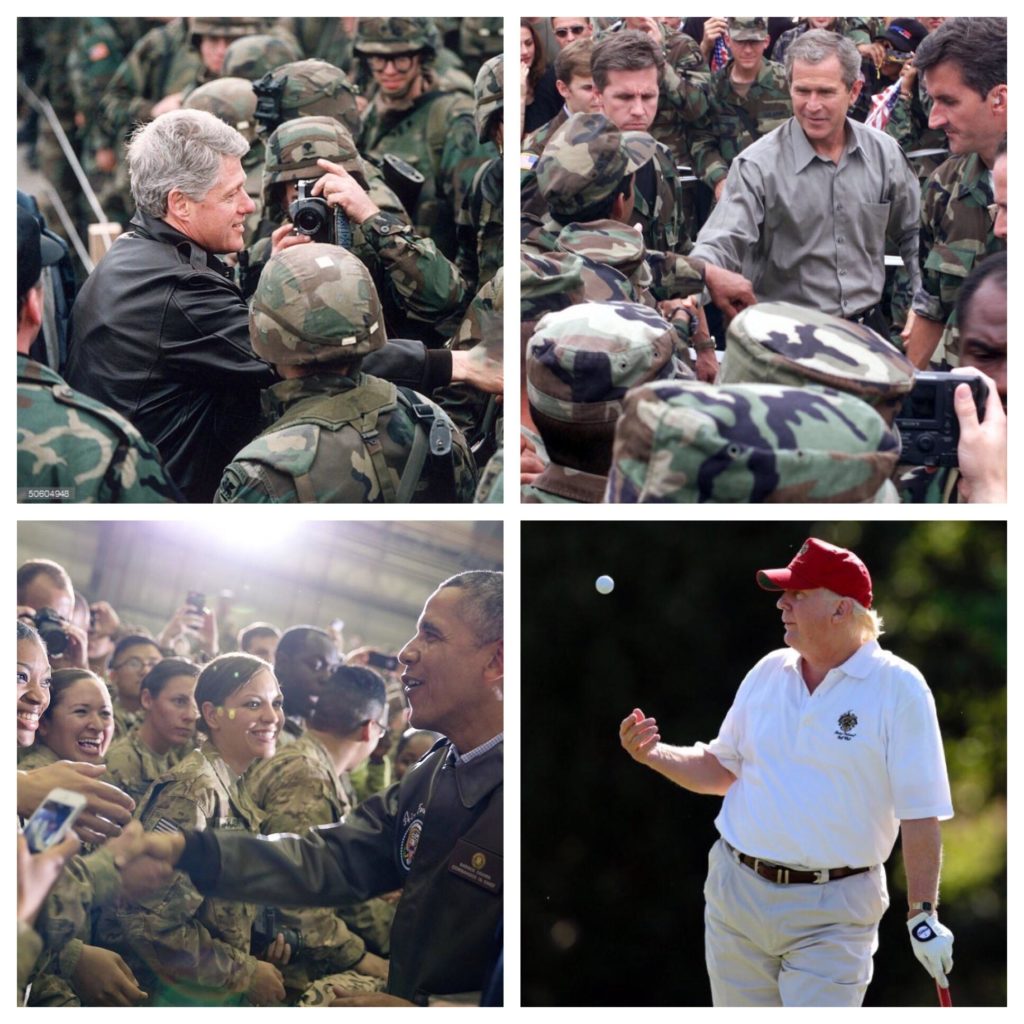 Let's dive in.
When were these photos taken?
None of these photos were taken on July 4, 2017. Using Photoshop, I sliced each image from their frames, and uploaded each image to Google Image Search. Here are the results:
Where were they really?
I searched through historical newspaper archives and Presidential records to determine where each President celebrated the Fourth of July during their first terms.
President Clinton
President Clinton celebrated July 4, 1993, in Philadelphia. He attended the Philadelphia Freedom Festival and an awards ceremony at Independence Hall, where he delivered a long speech. The White House also issued Fourth of July Remarks. Clinton awarded the Liberty Medal to South African President F.W. de Klerk (center) and ANC leader Nelson Mandela (left). The following day, the President spoke at the NEA's Annual Meeting in San Francisco, met with the NEA Board of Directors, and immediately departed for Tokyo to attend the G7 Summit.
Here is President Clinton's schedule for July 1993.
President Bush
President Bush celebrated July 4, 2001, in Philadelphia. He attended the Urban Block Party at the Greater Exodus Church, where he played football with local youth. Later, he delivered a long speech at the Independence National Historical Park in front of a statue of George Washington. The following day, the President nominated Robert S. Mueller to be Director of the FBI, and departed for Kennebunkport, Maine, to advance his Education Reform Agenda.
Only select dates of the Presidential Daily Diary were made available to the George W. Bush Presidential Library and Museum, and these records did not include July 4, 2001.
President Obama
President Obama celebrated July 4, 2009, at the White House. In the afternoon, he actually did play a round of golf. Obama then spoke from the South Portico to military families who were there for a cookout, and the Foo Fighters and Jimmy Fallon performed in the backyard. An fireworks show followed in the evening at the National Mall. Later that night, the President and his family departed Washington "to 'reset' relations with Russian leaders" in Moscow.
The Barack Obama Presidential Library and Museum does not open until 2021.
Was President Trump golfing on July 4?
Numerous sources confirm that President Trump spent part of the Fourth of July Weekend at his New Jersey golf course; however, he returned to the White House on July 3.
Like his predecessor, President Trump celebrated July 4, 2017, at the White House, where he welcomed military families for a picnic on the South Lawn. He delivered a relatively short speech. At night, the families of White House staff joined the party for a fireworks show. The following day, the President and his wife departed Washington to attend the G20 Summit, where Trump and Russian President Vladimir Putin hammered out a cease-fire agreement.